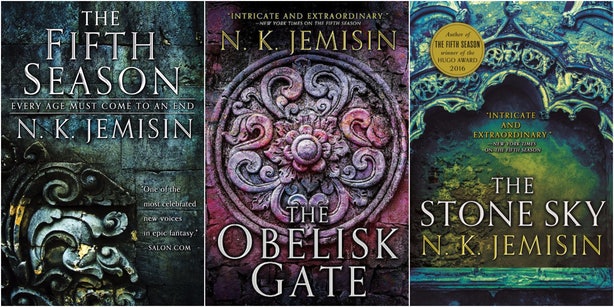 Sometimes a book series is so important that you want people to put everything aside and just read it. I'm not the only one who feels this way about N.K. Jemisin's Broken Earth trilogy. The first and second novels in Jemisin's trilogy, The Fifth Season and The Obelisk Gate won the prestigious Hugo Award for the past two years in a row—the first time this has happened since Ender's Game and its sequel Speaker for the Dead won sequential Hugos in 1986 and 87. Now the final Broken Earth book, The Stone Sky, is out. You can gobble up the whole series without interruption.
There are very light spoilers ahead.
A mesmerizing world
There are a lot of reasons why this series has been hailed as a masterpiece. There are unexpected twists which, in retrospect, you realize have been carefully plotted, skillfully hinted at, and well-earned. There are characters who feel like human beings, with problems that range from the mundane (raising kids in a risky world) to the extraordinary (learning to control earthquakes with your mind). The main characters are called orogenes, and they have the ability to control geophysics with their minds, quelling and starting earthquakes. Somehow the orogenes are connected with the lost technologies of a dead civilization, whose machines still orbit the planet in the form of mysterious giant crystals called obelisks. To most people on the planet, the orogenes are known by the derogatory term "rogga," and they're the victims of vicious prejudice.